How to set up Superbox S3 Pro/Superbox S4 Pro? (New Update)
Feb 16,2023 | Superbox Team
Superbox S3 Pro/Superbox S4 Pro comes among the Android TV boxes that users find simple and convenient to use. By following a few steps to set up, users can enjoy home streaming entertainment with it.
You can also check the user manual that comes with your package.
Here is the photos: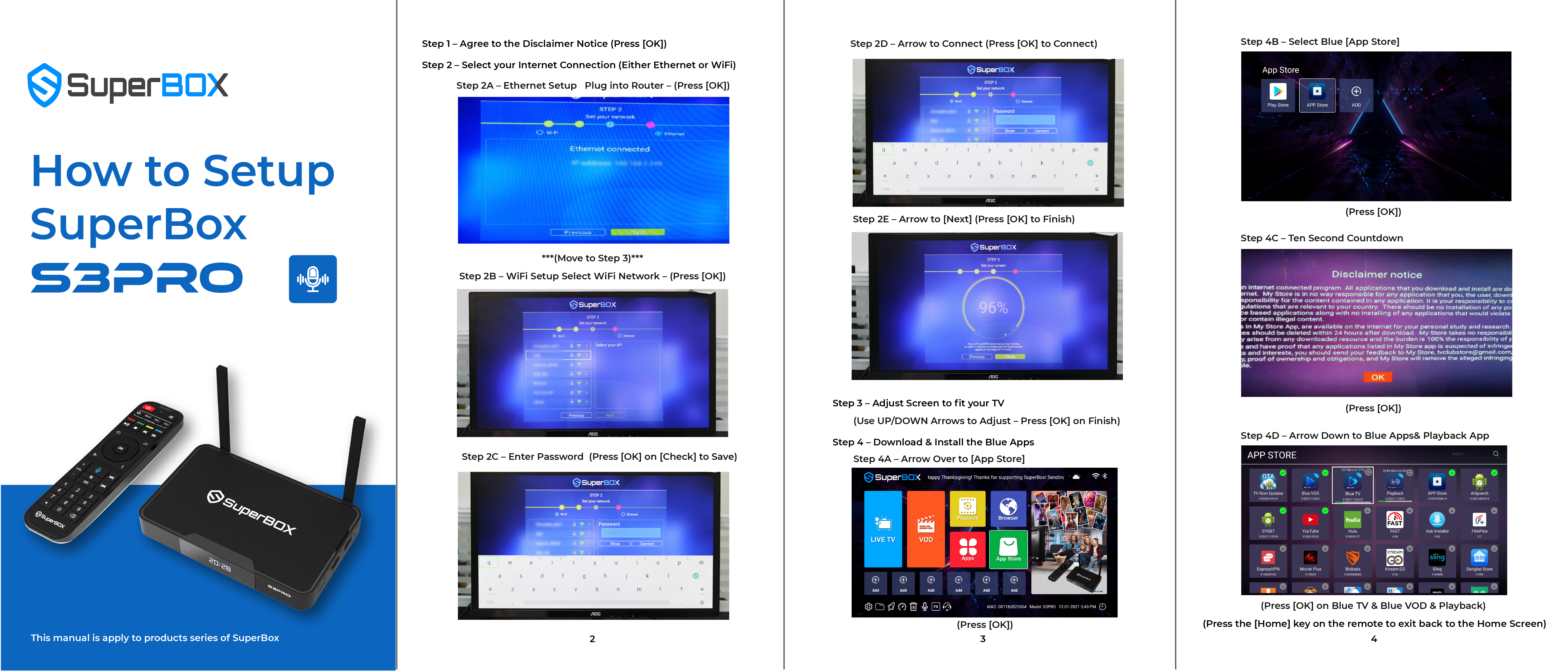 If you still have any questions regarding your Superbox please email us at support@superboxtv.shop, or chat with us using the Chat feature
Overview of your Superbox S3 Pro
Superbox S3 Pro/Superbox S4 Prois a fully-loaded Android TV box containing fantastic features that every user dreams of. This model is specifically designed to provide a smooth streaming solution for home TV. Also, it makes browsing vast content from the web simply accessible. With Superbox S3 Pro/Superbox S4 Pro, you can access over 10000 Plus TV episodes and movies and 1000 plus live premium channels. All this without needing to connect with cable.
Moreover, it is an upgraded version of the S2 Pro that has a new range of additional playback features, helping you to stream recent sports and news (streamed around the last seven days). Hence installing Superbox S3 Pro/Superbox S4 Prowill never let you miss your favorite sports tournaments or important news.
Other improvements in this upgraded version include the use of better EPG and powerful Android 9. This functionality enables it to provide a better user experience to customers than ever before.
Aside from this, you get a voice command option on the remote control, a 32GB emmc internal storage in addition to memory storage of 2GB DDR3.
It uses a better performing processor: quad-core ARM Cortex-A53. Provides high definition video output, supports dual-band Wi-Fi 4G and 5G.
Superbox S3 Pro/S4 Pro is well-compacted and has a flat rectangular shape with an LED display when it comes to design.
There are many more features that Superbox S3 Pro/S4 Pro offers to users that you will learn once you buy the product. These improvements have made it a 60 % faster streaming device as well as more stable.
We can say that this exciting upgrade can make the Superbox S3 Pro/S4 Pro a cutting-edge device in the market. Here are the following components that come with the product:
User manual
HDMI Cable.
Power supply.
Remote control embedded with voice commands.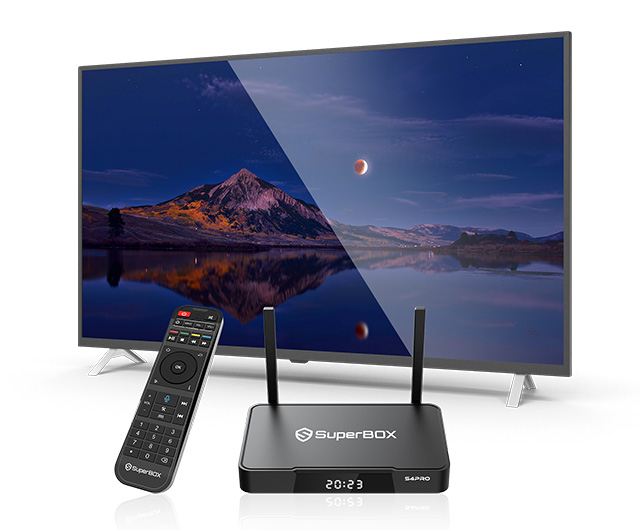 How to set up a TV box for Superbox S3 Pro/S4 Pro?
First, you have to connect your Superbox S3 Pro/S4 Pro to your TV by following the below-given steps:
Step 1
The very first step is turning off your TV before connecting to your Android box.
Step 2
Locate the HDMI port given on your Superbox S3 Pro/S4 Pro and connect it to the provided HDMI cable. Usually, this port is available at the backside of the Android TV box.
Step 3
Connect your TV from the HDMI cable through the given open port. Usually, the TV has HDMI ports at the back or on the side area.
Step 4
Now you have to connect the power cable of your Superbox S3 Pro/S4 Pro, and it will turn on instantly.
Step 5
Now put on AAA batteries inside the remote of your Superbox S3 Pro/S4 Pro. And switch on your TV.
Step 6
Find the SOURCE or the INPUT button provided on the remote. The positioning of the button will vary depending on the brand of your TV.
Step 7
Now you have to choose the input for your Superbox S3 Pro/S4 Pro Android TV. You have to explore different inputs until you discover the welcome screen. Or you can check out the labeling for your HDMI port and directly find the input.
Step 8
In case your TV screen is displaying a pairing option instead of a welcome screen, then you will have to pair the remote manually. For this, you will have to long press the home and back buttons on the remote for at least 5 seconds. You will see a blinking light that will indicate that your remote is being paired with the TV. Then press the OK button until the blinking stops. However, in some cases, pairing fails for certain reasons such as:
When the remote control is over 10 inches away from the Android box.
When the remote control is faulty, or there is some issue with the battery.
Secondly, you have to set your Superbox S3 Pro/S4 Pro by performing the below-given instructions:
Language selection
Usually, Superbox S3 Pro/S4 Pro comes with an automatic setup process for first-time users, but if it is not available, you'll have to do it manually. For this, go to the settings and then select your preferred language.
Connect your device with the wireless network
Ensure your Superbox S3 Pro/S4 Pro device is under the range of your wireless network.
Go to the settings using your remote control, then click on the network option. Find the Wi-Fi option in the list and connect with your wireless network. Make sure to insert the correct password using your on-screen keyboard.
Wait for the update
In case your device needs a new update, your Superbox S3 Pro/S4 Pro will automatically download and install it. Wait for a few minutes to complete the update. Once finished, your S3 Pro will restart itself. You can also check available updates automatically through settings. Select the About option and check if there is any system update available.
Sign in with your Google account
To finish the process to set up TV box, you will need to sign in with your active Google account. Click on the Use Your Password option and fill in the account details through the on-screen keyboard.
Next, you have to choose the option of Use Your Phone Or Laptop. After this, go to your web browser using your laptop or phone connected with the same network. Then go to the official site of your Superbox Android TV and provide the generated pin on your TV screen.
Now your Superbox S3 Pro/S4 Pro TV box is all set to use. Explore the home menu to find all the available content on your TV screen using your remote. Also, the settings option is provided at the bottom of the screen if you want to make any further changes.
How can you set up the hotkeys function on your Superbox
S3 Pro/S4 Pro?
With the Superbox S3 Pro/S4 Pro, you will get a new hotkeys function that is not available in the brand's previous versions. With this function, you can get to your preferred application just by pressing specific numbers on your remote.
For setting it up, you will need to do the following steps:
Select the FN button displayed on your home screen.
Tap on the Add option and choose your preferred application among your installed applications.
Return to the home screen, and by pressing the number button, you can enter your desired application.
Superbox S3 Pro also offers a voice control function. You can browse your content, change settings and do other tasks just by your voice command. You have to connect the remote of your S3 Pro/S4 Pro to the box via Bluetooth. Then you can easily enjoy this function. To voice command your TV box, long-press the voice button and give your preferred instructions.
Benefits of using Superbox S3 Pro/S4 Pro
You don't have to pay any hidden or monthly charge for watching the TV content. The only fee you will have to pay is for Superbox S3 Pro/S4 Pro.
As mentioned earlier, this product comes with a remote and useful voice control function. It enables you to find your desired shows or channels quickly.
Free subscription to over 1000 HD lives premium channels. There is no time limit for accessing any channels, especially channels from the Philippines, Canada, and the USA. You can even watch your local news channels by selecting the option of regional news. Also, Superbox S3 Pro/S4 Pro comes with pay-per-view events.
You get a vast number of genres to explore, including drama, thriller, comedy, crime, adventure, horror, action romance, classic, popular, Sci-Fi, mystery, documentary, action, 18 + movies and many others. The product comprises more than 10,000 TV series and movies as well as live sports HD packages.
It gives access to the 7 Days Playback Function. Hence you will always be able to catch up with any sports or news you couldn't watch live.
The device comes as fully loaded. You only have to link your television with an HDMI or AV cable, connect it with a good internet connection using an ethernet port or a wireless network. It will hardly take you 5 minutes to set up.
The Superbox S3 Pro/S4 Pro offers high-end picture quality with 4K and 6K ultra HD resolution. In addition to this, it has a high dynamic range providing a smooth user experience.
Conclusion
Bring the global entertaining content to your home by setting up the Superbox S3 Pro/S4 Pro Android TV device. The best thing about using this upgraded product over its other versions is that it comes with so many innovative functions like hotkey selection. Also, S3 Pro can be used in any country without any censorship. All you need is a good internet connection. If you're looking for an affordable high-end product, then Superbox S3 Pro/S4 Pro is the one.
Comment