What is Superbox?
Feb 16,2023 | Superbox Team
Introduction
With a Superbox, you will be able to take your online series and movie viewing experience to a whole new level of enjoyment. Individuals nowadays prefer to spend their spare time watching web series, documentaries, movies, or comedies on various over-the-top (OTT) platforms, such as Netflix and Amazon Prime Videos, among other things, to pass the time. They are primarily viewed on small screens such as those found on smartphones and tablets by most people. Only an Android TV or Smart TV allows viewers to watch these fascinating shows on large screens.
Fortunately, the Superbox Android TV box is valuable in this case. Using the AV connector or HDMI port, it can be readily linked to any television, preventing you from having to view internet shows on a small screen. Through this article, we hope to give you information on what a Superbox S3 Pro (Android TV box) is, along with technical details, functionalities, and advantages.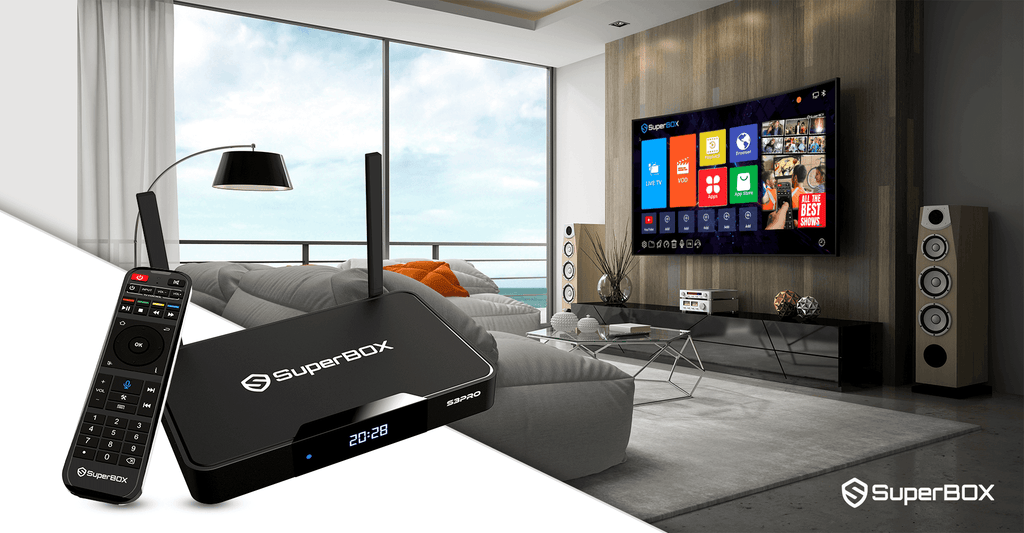 Superbox S3 Pro
Superbox S3 Pro is the box in 2023. The  box is powered by the cutting-edge Android operating system. It is possible to watch your favorite shows online if you have access to the internet.
Superbox S3 Pro is an innovative voice control box that helps you go hands-free. This voice control feature promises you complete entertainment without having to worry about surfing the channels or TV shows or films. It comes with a new exciting Bluetooth remote and an artificial intelligence system integrated into it, allowing you to talk to control your television box easily. 
Superbox S3 Pro comes with a Quad-Core ARM Cortex-A53 processor that offers smooth processing speed and enhances the overall performance. It has inbuilt expandable memory storage of 32 Gigabytes up to 128 Gigabytes, through an external SD card, for storing and processing the application. With 2 Gigabytes DDR3 RAM, this box helps in loading ultra-high definition media. The external dual 2T2R antenna comprising of two transmitters and two receivers boosts the range of Wi-Fi by increasing its bandwidth capacity. This further makes the streaming device faster and stable by at least 60 percent.
The Superbox S3 Pro, with its Android 9.0 Nougat operating system, has inbuilt Wi-Fi that supports all standards, including 802.11 a/b/g/n/ac with a dual-band of 2.4G and 5G. The Ethernet port offers uninterrupted access up to 100 Megabytes per second. Still, it has to be noted that the bandwidth should be at least 25 to 100 Megabytes for smooth streaming. It has improved video and audio quality with RTP (Real-time Transport Protocol). Its ultra-high-definition 6K feature provides 6K resolutions with 60 frames per second, thereby giving the highest-quality details in the video. The Bluetooth 4.1 helps establish connectivity between Android TV box, mobile phone, mouse, and keyboard. Further, Superbox S3 Pro comes with one year warranty period.
How do Superbox S3 works?
With an AV connector or an HDMI port, the Superbox S3 Pro Android TV can be linked to any other type of television set. In contrast to the Stick or Chrome Cast, the Android TV box includes a variety of functions such as USB, SD card, and Ethernet connectors, among others. The  box also includes in-built Wi-Fi and Bluetooth capabilities, which allow for more efficient use of the network. The Android TV box runs on the Android operating system version 9 (Nougat), designed to be user-friendly and may be upgraded to higher versions. The operating system allows the box to connect to the Google Play Store, which provides a variety of useful applications such as web browsers, music, and video-on-demand applications, as well as games. The Superbox Android TV box may be accessible through an IR power TV remote control, which can also be used to operate the television.
The Superbox S3 Pro can be connected to the home router by both the Ethernet connector and the Wi-Fi connection to connect to the internet. It is recommended that the router be placed close to the Android TV box to provide a more stable connection. In addition, the Superbox S3 Pro is fitted with a high-quality power adaptor that provides consistent power to the television box. An AV cable or an HDMI cable must be utilized to connect the Android TV box to the television. Extra data storage and access to offline material are accomplished by using external storage devices such as a pen drive, SD card, and hard drive, among others. In addition to peripheral devices such as a keyboard and mouse. Also, the Superbox S3 Pro has a playback capability that lasts for seven days.
Difference between Superbox S3 Pro and Superbox S2 Pro
Superbox S3 Pro fixed many bugs that Superbox S2 Pro faced making the S3 Pro more stable. Its 32 Gigabytes provides more storage space as compared to S2 Pro. Further, the most interesting feature S3 Pro has is voice assistant. The interaction design, launcher, icons, and even search page result differs from S2 Pro.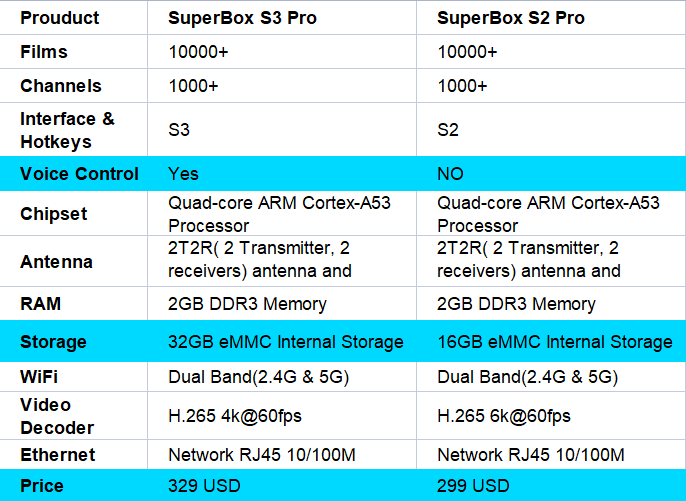 #1. New interface and Hotkeys function
When you turn on the box, you will see a brand-new and clean interface design similar to the S2 Pro. In addition to the most often used programs and the browser, you can also add shortcuts to your favorite apps to the home screen. The weather symbol is located in the screen's upper-right corner, allowing you to see your local forecast quickly.
And you'll see that an "FN" symbol has been added in comparison to the S2 Pro. You can start setting up hotkeys for different apps that can help you access specific apps with a single click by tapping on them.
#2. Voice Control
The box includes a high-quality remote control that may be used with both infrared and Bluetooth technology. By pairing the remote with your SuperBox (by pressing the voice button and following the instructions), you will be able to use the voice control feature.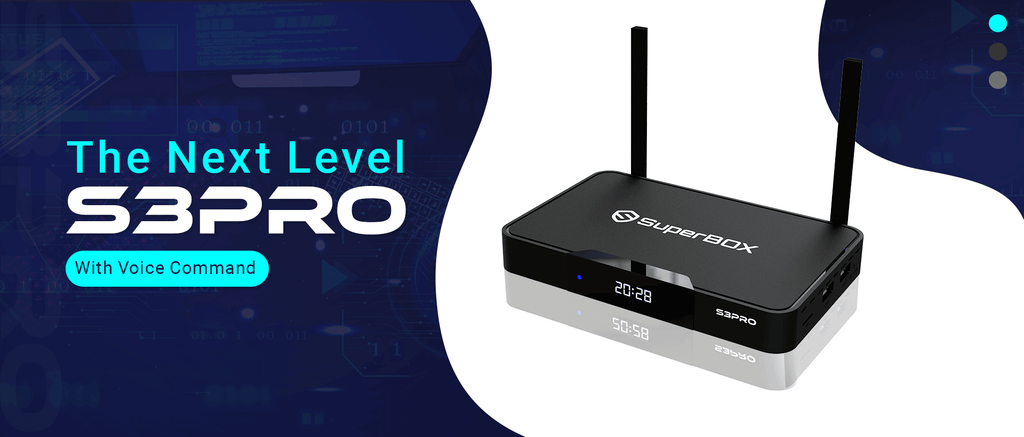 What makes this remote different from others that may be used on a TV box with Google Voice, and what makes this remote stand out from the rest? One advantage of the SuperBox S3 Pro is that it does not require installing any additional software to use the Voice Control remote as the software is already included. You have to push the voice button and speak into the microphone to control the box. It is worth noting that the built-in voice control system differs significantly from Google Assistant. It can manage a greater number of apps rather than just those associated with the search engine. In other words, by pushing the voice button on your remote, you may speak and find certain TV station names in the LIVE TV part, speak movie names, director's names, or actor's names in the Video-On-Demand (VOD) section to find specific sources, and so on. This function can almost completely free your hands and save you a significant amount of time on searching, which is a great benefit for people who don't want to bother pressing so many buttons all of the time, especially the elderly.
Benefits of Superbox S3 Pro
#1. No subscription fees or extra charges
The user is not required to pay a subscription fee or any other charges to watch free channels or utilize the applications available on the Superbox S3 Pro. The user simply needs to make a one-time payment for the Android TV, after which they can download all of the recommended programs.
#2. Easy access to 1300+ live HD channels
It is possible to get more than 1300 live high-definition premium channels for free using the Superbox S3 Pro Android TV box. These channels feature live news, sports, politics, entertainment, and kids specials and television shows. Besides that,offers channels in a variety of languages and categories, including network TV, regional and local channels, sports networks, 24/7 channels, and news channels featuring the National Basketball Association, the Major League Baseball, the National Football League, the NCAAF, the National Hockey League, Canada (in both English and French), Latin (in Spanish), and Filipino.
#3. Unlimited entertainment
The entertainment channels provide free access to over 14,000 films and television shows. They are available in all genres, including Popular, New, Classic, Action, Romance, Adventure, Comedy, Animation, Crime, Drama, Documentary, Family, Horror, Fantasy, Mystery, Musical, Sport, Sci-Fi, Western, War, Thriller, and 18+ movies, to name a few examples.
#4. Brilliant picture quality
The S3 Pro TV box delivers amazing picture quality with up to 6K Ultra HD resolution and High Dynamic Range, allowing the user to enjoy the maximum level of clarity, detail, and smoothness possible when watching television.
#5. Fully loaded
Superbox S3 Pro comes fully loaded with all the required settings. You just need to connect it to the Internet (Wi-Fi or Ethernet) through the AV or HDMI port of the TV. After unboxing, the first thing you need to do is to complete a 5-minute setup. After the setup, you can enjoy all the features of the S3 Pro.
#6. SEVEN days playback function
In addition, the Superbox S3 Pro Android TV box includes a 7-days Playback function, which enables users to navigate to the playback option if they are unable to watch their favorite sports show, important news, or movie due to an issue in their schedule.
#7. Works globally
The Superbox S3 Pro Android TV is suitable for use in a wide range of countries. It is possible to use it in practically any country if you have a good internet connection.
Conclusions
Superbox S3 Pro 2022 is loaded with modern streaming media technologies in the most appropriate hardware. Superbox is the most convenient cord-cutting solution available for every home. Suppose you merely connect the box to your television and to the internet. In that case, you will be able to access an enormous amount of content. The Bluetooth Control is compatible with various apps, and you may speak to your remote to control your TV box with ease. Superbox also takes good care of its customers, offering customer service and technical support around the clock, seven days a week.
As of 2022, the 
Superbox S3 Pro
 is the most user-friendly and smoothest English-based Android TV box available for your home streaming entertainment requirements. 
Superbox
 makes it possible to view your favorite television shows at a low and convenient price. 
Superbox
 devices serve as the hub for all of your entertainment, allowing you to simplify your setup, eliminate the need for pricey cable equipment, and watch what you want while saving money. 
Comment